SYNOPSIS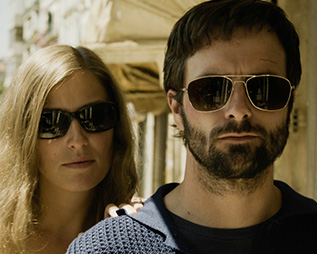 BACK
Ian, a spatial orientation instructor, arrives at a world-renowned Lisbon clinic for the visually impaired to work with blind patients. It will be his task to help them become more confident and allow them to explore their surroundings without feeling vulnerable or afraid. The doctor in charge of the clinic hires Ian on condition that the patients won't be exposed to danger as they learn to move around by themselves.
During spatial orientation sessions, Ian quickly wins the trust of his patients: a small group of children and young adults of various nationalities. They've come to the clinic, often travelling long distances, in the hope that their blindness will be cured or their progressive loss of sight arrested. Ian's techniques intrigue the children and embolden them to explore their surroundings. Ian, however, pushes them to attempt challenges with an element of risk, much to the dismay of the medical staff.
Ian's sessions take place right under the window of Eva, an adult patient who never leaves her room and doesn't speak to anybody. She is most intrigued by the newcomer and his ideas. Unexpectedly, she becomes one of his most eager students. She's determined to master his techniques and move around with freedom. With Ian, she ventures beyond the boundaries of the clinic without her cane and experiences the world outside the clinic. Sitting at a table outside a local bar, they take in the life of the nearby port. Soon after, Ian is dismissed by the doctor for what he considers unprofessional behaviour, in order not to put the patients at any further risk. Ian's pleas to remain at the clinic fall on deaf ears.Serrano, Ian's boldest student, has reason to doubt whether the image of the surrounding world that Ian is gradually creating in his students' imagination is real.
There is much to suggest Ian is simply a liar.
In order to test the truth, Eva and Serrano will have to set out alone and will finally have to apply what they have been struggling to learn from Ian.